All the biographical on this page can be freely duplicated elsewhere provided you don't alter the text (aside from mixing and matching paragraphs, if that suits your needs).
50-word bio:
Lucy A. Snyder is the author of 15 books and over 100 published short stories. Her most recent titles are the apocalyptic horror novel Sister, Maiden, Monster and the collection Halloween Season. She lives near Columbus, Ohio with a jungle of houseplants, a clowder of cats, and an insomnia of housemates.
160-word bio:
Lucy A. Snyder is the Shirley Jackson Award-nominated and five-time Bram Stoker Award-winning author of 15 books and over 100 published short stories. Her most recent books are the collection Halloween Season, the Tor Nightfire novel Sister, Maiden, Monster, and the forthcoming novel The Star-Stained Soul. She also wrote the novels Spellbent, Shotgun Sorceress, and Switchblade Goddess, the nonfiction book Shooting Yourself in the Head for Fun and Profit: A Writer's Survival Guide, and the collections Garden of Eldritch Delights, While the Black Stars Burn, Soft Apocalypses, Orchid Carousals, Sparks and Shadows, Chimeric Machines, and Installing Linux on a Dead Badger. Her writing has been translated into French, Russian, Italian, Spanish, Czech, and Japanese editions and has appeared in publications such as Asimov's Science Fiction, Apex Magazine, Nightmare Magazine, Pseudopod, Strange Horizons, and Best Horror of the Year. She lives near Columbus, Ohio. You can learn more about her at www.lucysnyder.com and you can follow her on Twitter at @LucyASnyder.
50-word poetry-specific bio:
Lucy A. Snyder is the author of the new poetry collection Exposed Nerves. Nearly 100 of her poems have appeared in publications such as Chiral Mad 5, Weirdbook, Vastarien, and Nightmare Magazine. She lives near Columbus, Ohio. Learn more about her at www.lucysnyder.com or follow her on Twitter at @LucyASnyder.
65-word addition:
Lucy has a BS in biology from Angelo State, an MA in journalism from Indiana University (Bloomington), and an MFA in creative writing from Goddard College. She is also a graduate of the 1995 Clarion Science Fiction & Fantasy Writers' Workshop.
She has worked as a mainframe operator, science writer, biology tutor, researcher, software reviewer, radio news editor, nature center attendant, and bassoon instructor.
Early Influences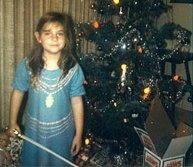 My parents dutifully tried to interest me in stereotypically girly things like dolls and clothes, but it didn't really work. Tea sets became bunkers for toy soldiers defending the realm against marauding Raggedy Annes. Hairbrushes were more likely to be used as pretend pistols and daggers than to be put to their intended use. I liked Barbies, but only because I could take the tall plastic boots off the dolls, put them on my fingers, and imagine that my hand was a giant stompy multilegged monster (my toy soldiers led a hard existence).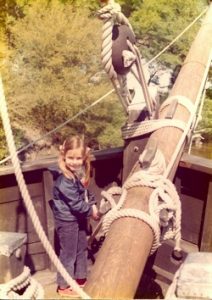 I grew up in a house full of books. My parents read to me every night when I was little — mostly fairy tales and children's fantasy like the Oz books and Alice in Wonderland — and taught me to treat books as something special. This more than anything inspired me to become a writer. My mother loved literature and the arts; my father, a physician by profession, is an accomplished amateur painter and photographer. My mother's first husband, John Grindley, wrote a novel published by Dial Press in 1969. I never met John, and didn't correspond with him until I was in my 30s, but I knew about him pretty early on. Because he had written a novel and then gone gallivanting away to places like Guatemala and Saudi Arabia, he was a shadowy figure of cool in my young mind.
My parents took me on car trips all over the southern and western U.S. when I was very young (to this day, the sound and motion of riding in the back seat of a sedan on the highway makes me sleepy). We went to zoos, museums, national parks and forests, and consequently I became very interested in science and nature (my parents were pleased that at least this part of their plan worked). I also became fascinated by pirates after visiting some restored ships. (But who doesn't like pirates? Well, aside from people who've been looted and pillaged. And the RIAA. Arr.)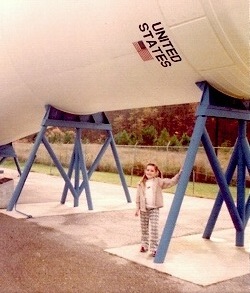 A huge influence was the United States Space & Rocket Center at the Redstone Arsenal in Huntsville, Alabama, where my father's aunt and mother lived. Whenever we went to visit, they'd take me to the museum, and the notion of space travel caught my fancy and kept it. Once I was old enough to read anything of substance, I grabbed pretty much anything with a space ship or a fantastic creature on the cover that appeared on the school library's shelves.
It was Madeline L'Engle's A Wrinkle In Time that simultaneously hooked me as a lifelong science fiction/fantasy reader and fixed me on the idea of writing fantasy and SF instead of mainstream work. I remember that the book spoke to me in a way that nothing I'd read until then really had, and I had that shivery sense of wonder you get with really good speculative fiction. And I thought to myself that if I could write something that made another person feel the way I was feeling, then that would have to be the best job in the world.