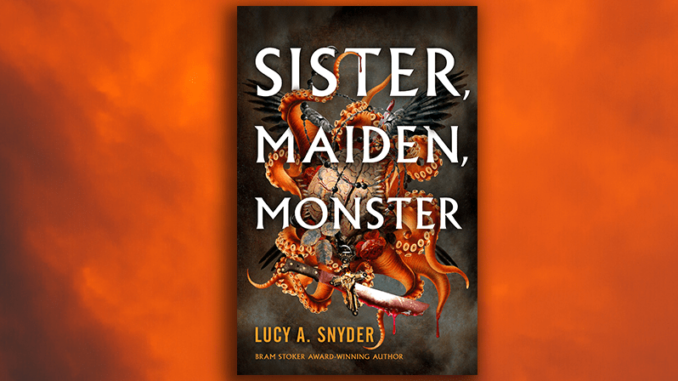 My new novel Sister, Maiden, Monster officially releases this Tuesday the 21st. (However, some Barnes & Noble stores apparently already have it out on the shelves.)
You can order the book online from:
The novel is also available as an audiobook.
And, I'm going on my very first publisher-sponsored book tour!
Lucy's Book Tour Schedule
Tuesday, February 21st at 7pm
The Book Loft in Columbus, OH
Joined by John Scalzi
https://www.eventbrite.com/e/lucy-a-snyder-john-scalzi-at-the-book-loft-tickets-530622294567
Thursday, March 2nd at 6:30pm
Schuler Books in Okemos, MI
Joined by Cheyna Roth
https://www.schulerbooks.com/event/sister-maiden-monster-lucy-snyder-conversation-cheyna-roth
Monday, March 6th at 7:00pm
Riverstone Books in Pittsburgh, PA
Joined by Gwendolyn Kiste
https://www.riverstonebookstore.com/events/lucysnyder
Tuesday, March 7th at 7:00pm
Midtown Scholar Bookshop in Harrisburg, PA
Joined by Tara Whitehead
https://www.midtownscholar.com/calendar/2023/3/7/lucy-snyder-with-tara-stillions-whitehead-sister-maiden-monster
Friday, March 10th at 7:00pm
Porter Square Books in Boston, MA
Joined by Gretchen Felker-Martin
https://www.portersquarebooks.com/event/horror-author-panel
Monday, March 13th at 6:00pm
Doylestown Bookshop in Doylestown, PA
Joined by Chuck Wendig
https://www.doylestownbookshop.com/event/lucy-snyder-chuck-wendig-sister-maiden-monster
I hope to see some of you there!