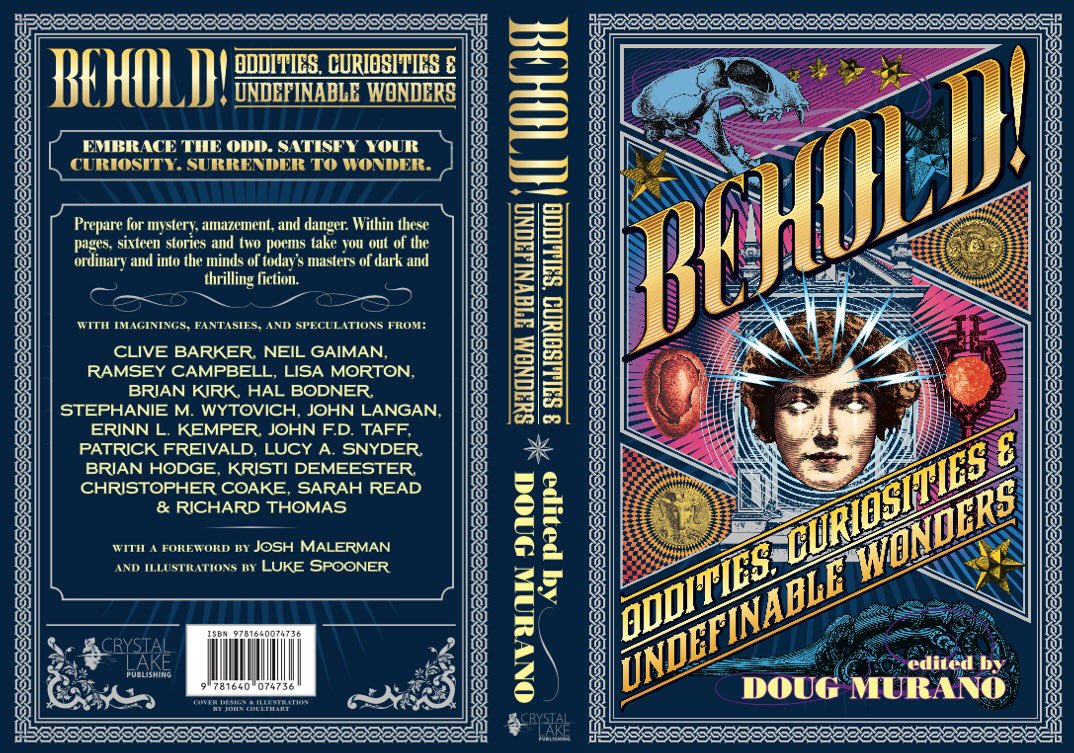 The new anthology Behold!: Oddities, Curiosities and Undefinable Wonders was just released by Crystal Lake Publishing, and it's already a bestseller on Amazon. It contains my story "Hazelnuts and Yummy Mummies" and I'm excited to be sharing a table of contents with authors such as Clive Barker, Neil Gaiman, Ramsey Campbell, Lisa Morton, Stephanie M. Wytovich, John Langan, Erinn L. Kemper, John F.D. Taff, Patrick Freivald, Kristi DeMeester, Sarah Read and Richard Thomas.
When editor Doug Murano approached me for a story, I was excited about the premise for this anthology. He says, "I wanted this book to encompass a lot of the things I love about weird fiction, fantasy and horror—as well as give a tip of my cap to some of the things I loved growing up. So, it's not exclusively a horror anthology, though you'll find there's plenty of darkness and dread throughout the book. It was important to me that the stories throughout the anthology embraced and celebrated the odd—so you're not going to find stories of big-top exploitation or carnival freak shows here. Some tonal touch-points for much of the book are actually Jim Henson's work — like Labyrinth and The Dark Crystal — particularly in the Undefinable Wonders section. I also drew tonal influences from Guillermo del Toro's filmography, especially his Spanish-language films like Pan's Labyrinth and The Devil's Backbone. As in those films, there's terror and darkness here, but there's beauty, wonder, and magic, as well. In other words, the book is willfully bizarre, wide-ranging, and beautifully strange."
My story "Hazelnuts and Yummy Mummies" is deliberately odd and was inspired by Fear and Loathing in Las Vegas, Alice in Wonderland, and my own experiences as an author at a large gaming convention. I hope my readers enjoy it.
For space reasons, I've mostly transitioned to ebooks, but I'm going to love having this one on my shelf. The cover art by John Coulthart is just about perfect. I appreciate excellent covers that are gorgeous, intriguing, and accurately convey the contents of a book. This one is stellar.