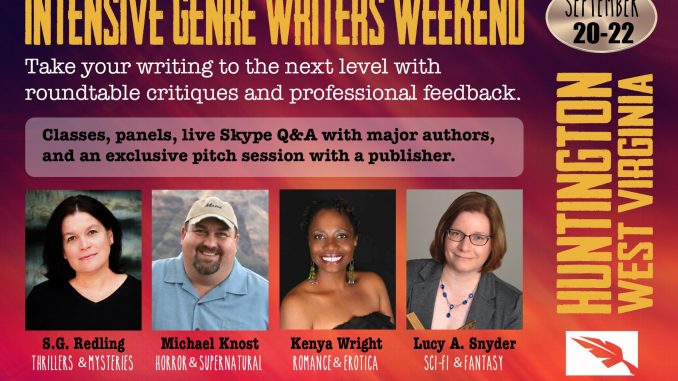 The Intensive Genre Writers Weekend, under the direction of Michael Knost and SG Redling, will debut September 20-22, 2019 in Huntington, West Virginia. The workshop will include Milford-style roundtable critiques from peers and professionals. We will accept only 30 students.
The cost for the weekend will be $300, which includes dinner on Friday, lunch and dinner on Saturday, and brunch on Sunday. (Does not include hotel, breakfast, or alcohol.)
We will have live Skype Q&A sessions with a few well-known writers (TBA). (Students will have the opportunity to personally direct a question to each writer during these sessions.)
Instructors include SG Redling, Michael Knost, Kenya Wright, and me (Lucy A. Snyder).
We will have an exclusive pitch session with a publisher (TBA), panel discussions, Q&As with the writing professionals, and lots of fun.
This will be a safe environment for everyone. We will have strict policies for conduct, harassment, etc. We will also enforce proper etiquette for critiquing.
We will be workshopping/critiquing short stories (around 5,000 words in length) or portions of novels (around 5,000 words) in this session. Our goal is to dramatically improve your writing during this weekend event.
You must submit a piece of writing (up to 5,000 words of a short story or novel) to be accepted into the program. We will make sure everyone is writing at a competent level; we will be focusing on next-level critiques and the workshop is not for those who do not understand the basics.
Submit your piece to:
IntensiveGenreWriters@gmail.com
Note: the piece you submit for acceptance doesn't have to be the same story you turn in for actual critique during the weekend.