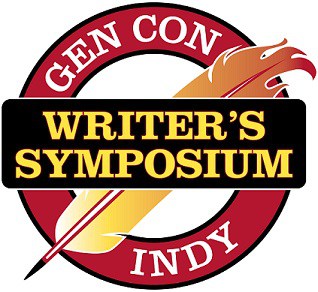 In two weeks, I'll be one of the speakers at the Gen Con Writer's Symposium! Here's my schedule:
Thursday, August 1
10:00 am: Writing About Places You've Never Visited
LaShawn Wanak, Lucy Snyder, Seth Skorkowsky, Corry Lee (Mod)
How do you understand the vibe of a place well enough to translate it to your readers if you've never been there? Lucy A. Snyder, LaShawn Wanak, Seth Skorkowsky, and Corry Lee tell you how.
11:00 am: Signing with Lucy A. Snyder
2:00 pm: Climax: Don't Let It Fall Flat
A. E. Greenwood, Gregory A. Wilson, Holly West, Lucy Snyder, Steve Drew (Mod)
Is the high point of your story making you feel low? Panelists including Holly West and A. E. Greenwood discuss making the climax of your novel pay off for readers.
Friday, August 2
11:00 am: Capturing the Creepy: Getting the Details Right
Christopher Husberg, LaShawn Wanak, Lucy Snyder, Richard Byers, Steve Drew (Mod)
Horror and suspense writers want to captivate their readers without grossing them out, or worse, boring them. Lucy Snyder, Richard Byers, and others discuss how much detail is necessary.
3:00 pm: Writing Horror
Lucy Snyder (Mod)
What's the difference between gothic and quiet horror? Body horror and splatterpunk? Join five time Bram Stoker Award winner Lucy A. Snyder for a discussion of horror and its subgenres.
Saturday, August 3
12:00 pm: Blogging 201
Lucy Snyder (Mod)
Whether you're a blogging veteran or are completely new to it, LucySnyder is here to steer you away from trouble and toward a great blogging experience for you and your readers.
4:00 pm: Writing Weird Fiction
Lucy Snyder (Mod)
You may have heard of weird fiction. Is it just horror with tentacles? What makes it weird, and how can you connect with readers who appreciate it? Join Lucy A. Snyder for a discussion of this genre.
5:00 pm: What Makes a Good Cover?
Aaron Rosenberg, Kristin McFarland, Lucy Snyder, Chris Bell (Mod)
We all judge a book by its cover. So how can we make that cover grab areader's attention while conveying what's inside?
Sunday, August 4
9:00 am: Read and Critique 3
Anna Smith Spark, Brady McReynolds, Joseph Carriker, Jr., Lucy Snyder, Christopher Morgan (Mod)
Attendees read from their work for two minutes. Our panelists listen, analyze, and give their feedback. Attendees should bring a short sample of their work for critique
~~~~~
Gen Con 2019 is August 1-4, 2019 in Indianapolis, IN.
Follow this link to the 2019 Writer's Symposium schedule and panel descriptions: https://www.dropbox.com/sh/6bqs1a1noscligt/AAAskW4ksjY_SMonRhrEMXxXa?dl=0
Our guest of honor this year is Cherie Priest, and our special guests are Carol Berg and Kristen Britain. The participants are expecting an epic Symposium this year. You won't want to miss it!
Remember, seats for most Symposium events are free, but you should reserve free tickets in order to make sure you have a seat. Space is limited! Go to http://gencon.com, log in, and search for my name or other authors' names to find my or their events. Or, search for event names themselves to get a ticket.
I hope to see you there!