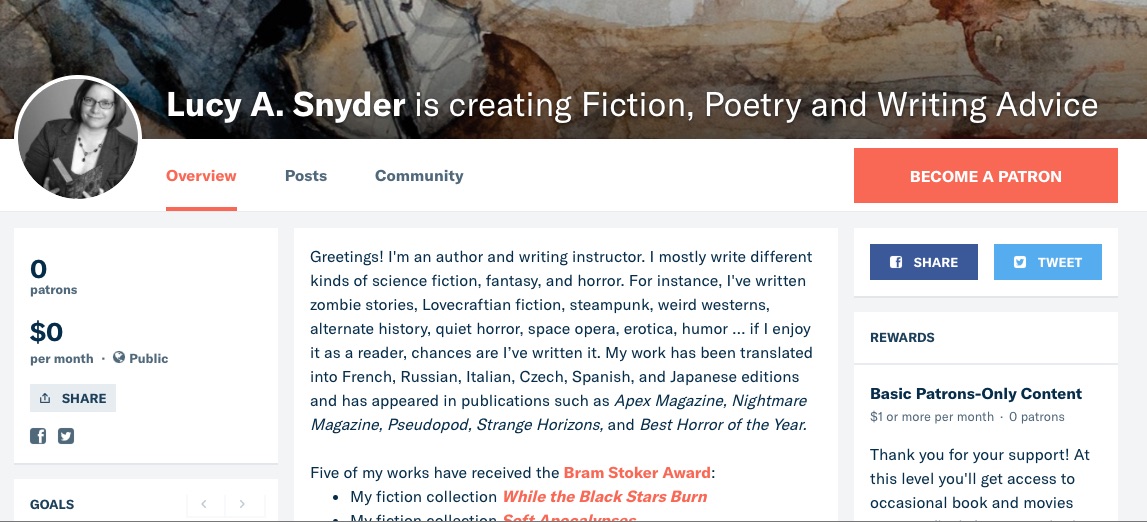 Hi everyone! If you've been enjoying the writing articles and reviews I've been posting on my website, please consider supporting me at Patreon! The goal of my Patreon is to provide my readers with great content while enabling me to focus on the kind of work I'd most like to be spending my time on: writing poetry and fiction, and helping other poets and writers improve their work.
If you're not familiar with Patreon, it's a crowdsourced subscription funding site that's become popular with writers, videographers, musicians, and other artists.
I'll be posting a poem a week, a story a month, exclusive writing articles, and excerpts from new novels in progress. At the higher tiers, I'll be offering critiques of patrons' writing.
Why get a critique? Aside from providing you with valuable feedback in improving your stories or chapters, knowing that I'll be expecting pages from you every month should give you some extra motivation to write new work.
Depending on how the Patreon goes, I may also start offering online workshops for patrons. Stay tuned!
https://www.patreon.com/LucyASnyder