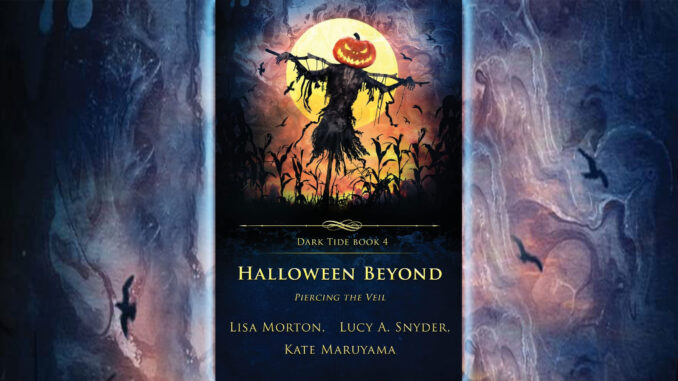 Lisa Morton, Kate Maruyama and I collaborated on a trio of novellas that were just published as Halloween Beyond: Piercing the Veil from Crystal Lake Publishing as part of their Dark Tide series. When Halloween Beyond stores appear across America, they intertwine the lives of three visitors in a web of mystery and magic.
My novella New Blood is about a 12-year-old girl named Maddie who is keen to celebrate Halloween. But when her stepfather moves them to a strange coastal town, a Devils' Night party forces her to face eldritch dangers that threaten her entire family.
The Talking-Board by Lisa Morton asks this question: Can ancient magic exist in the modern world? When Kayla's sister Hailey went missing in the nearby Ghost Woods on Halloween night, the last person to see her was the solitary, elderly Brigid. Kayla, who has long suspected Brigid of being involved with Hailey's disappearance, dreads the first anniversary of her sister's vanishing even as her best friend Sophie urges her to put the past behind her.  Halloween nears and Kayla pays a visit to the pop-up Halloween Beyond store, where an enigmatic clerk named Maeve convinces her to buy a talking-board. Kayla begins receiving messages which claim to be from Hailey, but is it actually something more sinister calling out from beyond the veil? Brigid—who may be a witch—offers to lead Kayla into the Ghost Woods on Halloween in search of answers. Kayla discovers dark truths about herself as she and Brigid confront the terrifying supernatural forces that claimed Hailey.
In A Gentleman's Suit by Kate Maruyama, Halloween Beyond's inscrutable clerk finds the right costume that makes people see the nonbinary Lex for who they really are. It's Lex's last Halloween at home before college, and it had better be good. When Lex's father, Beto, known locally as the King of Halloween adds an enormous animatronic Death on a boat to the collection in his elaborate front yard haunt, Halloween night takes a deadly turn. Lex is having trouble letting go of old friendships, of home, of Halloween itself, but they now face the hardest kind of letting go.
"I've written a lot of Halloween fiction, and I do mean A LOT," says Lisa Morton. "When Crystal Lake Publishing approached me about the possibility of doing a Halloween novella … I realized I hadn't really explored witches and Halloween, at least not in a modern setting that acknowledges the truth about witches as healers and practitioners of white magic."
"I thought it would be interesting, then, to write about a contemporary witch but still incorporate folklore. I would use certain tropes – mainly the idea that Halloween night is when the veil between worlds is at its thinnest – but also add in our current obsession with paranormal activity. Mix in a few other Halloween standards – a party, costumes, trick or treat, a haunted wood – and my novella began to take shape," Morton says.
"Lucy, Kate and I also decided to tie our three novellas together, although they were all written separately. We created a pop-up Halloween store called Halloween Beyond, which would sell standard Halloween paraphernalia but occasionally slip in a magical item. My magical item would be an old-fashioned Ouija board; thus my title finally became
Halloween Beyond – The Talking-Board."
Kate Maruyama says, "Last year, I wrote a Halloween Haunts about my favorite Halloween traditions at my friend Miguel's house, and how I missed it so much during the pandemic. Last winter, I wrote a novella set against that very Halloween, starring Beto, the King of Halloween, based on Miguel. The novella (Halloween Beyond: A Gentleman's Suit) is part of a triptych of novellas by myself, Lisa Morton and Lucy A. Snyder. Each novella is its own story but all pass through a Halloween superstore called Halloween Beyond and all our protagonists encounter a tricksy clerk there, named Maeve.""
"A Gentleman's Suit takes place in the first Halloween after the pandemic, in 2021 when the kids were so happy to be out again, but there was this air of caution. In the story, Beto, the King of Halloween has bought one animatronic piece too many for his yard. The rest of the characters are fully fictional, but I did gather all of the Halloween stories our gang of kids (six of them across three families, who celebrated Halloween at Miguel's house every year) and those stories appear as easter eggs (mini-pumpkins?) throughout the story. I had a lot of fun with it, capturing the feeling of Halloween in our specific neighborhood, the creativity of the local kids' costumes, and the creativity of the front yard haunts throughout," says Maruyama.
Crystal Lake's Dark Tide series will continue soon with more tales of Mystery Thrillers and Horror Books, including themes of Weird Western, Sherlock Holmes, Body Horror, Deadly Duos, and Psychological Thriller books.