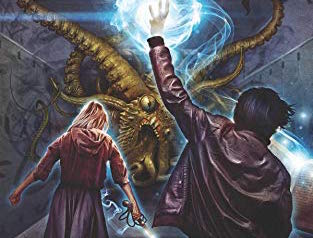 A Secret Guide to Fighting Elder Gods is a new YA anthology edited by Jennifer Brozek. It contains my story "Visions of the Dream Witch" along with new stories by Seanan McGuire, Jonathan Maberry, Tim Waggoner, and other great writers.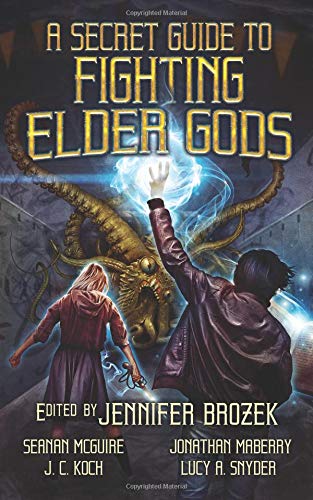 Here's the full Table of Contents:
"Away Game" by Seanan McGuire
"The Icarus Club" by Weston Ochse
"Stormy Monday" by Chesya Burke
"Pickman's Daughter" by J. C. Koch
"Us and Ours" by Premee Mohamed
"The Art of Dreaming" by Josh Vogt
"Visions of a Dream Witch" by Lucy A. Snyder
"The Tall Ones" by Stephen Ross
"Just Imagine" by Tim Waggoner
"Holding Back" by Lisa Morton
"The Mouth of the Merrimack" by Douglas Wynne
"The Geometry of Dreams" by Wendy N. Wagner
"Being Emily-Claire" by Jonathan Maberry
The ongoing fight against the immortal Elder Gods enters the modern age. Magic, mayhem, and murder no longer reign in dusty books discovered in decrepit libraries. Today's monsters can be called by more than uncanny rituals in candlelit basements. Madness lurks on the internet and lives in the locker room. It breeds in the mall and ambushes its victims outside the club.
But those who fight this vast evil have also moved into the modern age. Teenagers from every walk of life use whatever they can to defend our world. Sometimes they win. Sometimes they loves. Sometimes … they give into the temptations of eldritch power.
My story got a nice review at Skiffy and Fanty:
Lucy Snyder's "Visions of the Dream Witch" is a lovely story set in the swamps of Louisiana that involves possessing beings and temptation. There is a good sense that this is one fraction of a longer set of stories of two young cousins. The pair of cousins' families have been broken and battered by poverty and drugs, and so there is a real "found family" note to their partnership as they cross paths with the Mythos in the deep swamp. This story ties well with Vogt's in showing the promise and power of a temptation and reaching for what could be a dark dream. For YA protagonists are often faced with perilous and life altering choices, which the protagonists find themselves faced with those choices in this story.