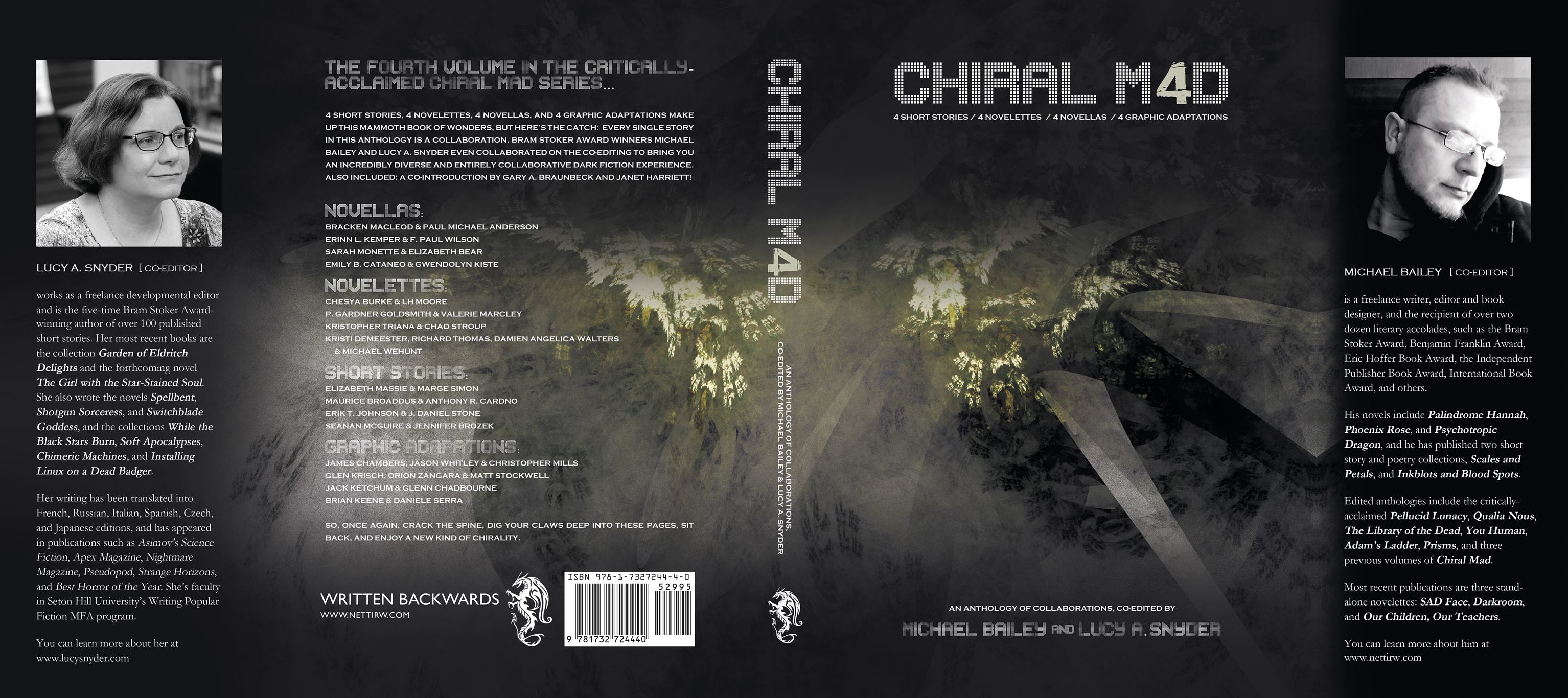 The new anthology Chiral Mad 4 was released today in ebook, trade paperback, and hardcover formats! I co-edited this anthology with Michael Bailey, and the four short stories, four novelettes, four novellas, and four graphic story adaptations in the book are all collaborations.
Here's the Table of Contents:
"Somewhere Between the Mundane and the Miraculous" (introduction) – Gary A. Braunbeck & Janet Harriett
"How We Broke" – Bracken MacLeod & Paul Michael Anderson
"Fade to Null" – Brian Keene & Daniele Serra
"Asperitas" – Kristopher Triana & Chad Stroup
"Home and Hope Both Sound a Little Bit Like 'Hunger'" – Seanan McGuire & Jennifer Brozek
"Golden Sun" – Richard Thomas, Kristi DeMeester, Damien Angelica Walters & Michael Wehunt
"The Substance of Belief" – Elizabeth Massie & Marge Simon
"The Ghost of the Bayou Piténn" – James Chambers, Jason Whitley & Christopher Mills
"The Long and the Short of It" – Erinn L. Kemper & F. Paul Wilson
"The Wreck of the Charles Dexter Ward" – Sarah Monette & Elizabeth Bear
"Sudden Sanctuary" – Glen Krisch, Orion Zangara & Matt Stockwell
"Peregrination" – Chesya Burke & LH Moore
"Ghost Drawl" – Erik T. Johnson & J. Daniel Stone
"Detritus Girl" – P. Gardner Goldsmith & Valerie Marcley
"Wolf at the Door" – Anthony R. Cardno & Maurice Broaddus
"Firedance" – Jack Ketchum & Glenn Chadbourne
"In Her Flightless Wings, a Fire" – Emily B. Cataneo & Gwendolyn Kiste
At 424 pages, this is a substantial anthology of dark fiction, and we hope readers enjoy it.