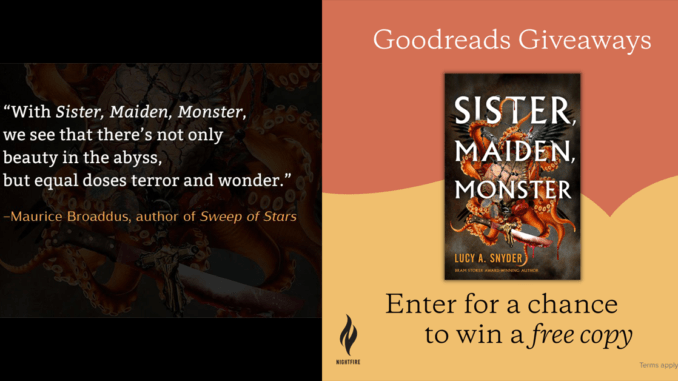 Goodreads Giveaway
Tor Nightfire is sponsoring a giveaway of advance reader copies of my forthcoming cosmic horror novel Sister, Maiden, Monster at Goodreads. The contest runs through 9/22 and they'll be giving out 50 ARCs.
https://www.goodreads.com/giveaway/show/352225-sister-maiden-monster
Sister, Maiden, Monster Available at NetGalley
NetGalley readers can request an advance digital copy of Sister, Maiden, Monster for review. E-copies will be available until the novel is published on February 21, 2023.
https://www.netgalley.com/catalog/book/266015
Advance Reviews
"Lucy A. Snyder has always been a trailblazer, and with Sister, Maiden, Monster, she scorches the earth with the sheer audacity of her imagination. A hideously gory, kink-fueled, feminist cosmic horror apocalypse novel that should be on the top of everyone's reading list."
—Christopher Golden, New York Times bestselling author of Ararat and Road of Bones
"On every charged page, Snyder sets to work catching and devouring the grimmest of social ills. Sister, Maiden, Monster is a gory treat of rich monster science and near-decadent body horror. Delicious and devious. It's a special rare treat to see a short story you love be nurtured and grown to a full-out novel of monstrous futures, queer lust, and every kind of imaginable appendage."
—Hailey Piper, Bram Stoker Award®-winning author of Queen of Teeth 
"Unsettling and unexpectedly timely, Sister, Maiden, Monster is horror at its best. Lucy A. Snyder pulls out all the stops with this powerful and unflinching novel, dealing with the fallout of a pandemic and the omnipresent, creeping terror that can only come from your own body turning against you. Put this book at the top of your reading list immediately."
—Gwendolyn Kiste, Bram Stoker Award-winning author of The Rust Maidens and Reluctant Immortals
"A mutant hybrid of weird science and cosmic horror, Sister, Maiden, Monster is deliciously cerebral and unflinchingly feminist. Lucy Snyder makes Gilead look like Sesame Street. Violently beautiful, Sister, Maiden, Monster is a tale for our times. Resounding."
—Lee Murray, four-time Bram Stoker Award®-winner and author of Grotesque: Monster Stories
"Sensuous, sinister, and sinewy; a blood-and-brains splattered shotgun-blast romp through the apocalypse that will simultaneously excite and disgust readers with equal pleasure. Reading this novel is the equivalent of sticking your head into the gaping maw of a roaring elder god, their empowered shout reverberating through the universe while turning you (gleefully) into cosmic dust."
—Philip Fracassi, author of Boys in the Valley
"Grotesque body horror and apocalyptic pandemonium as only Snyder can deliver. Reader beware: Sister, Maiden, Monster is not for the faint of heart!"
—Nicholas Kaufmann, bestselling author of The Hungry Earth and The Stone Serpent
"With Sister, Maiden, Monster, we see that there's not only beauty in the abyss, but equal doses terror and wonder. "
— Maurice Broaddus, author of Breath of Oblivion
"Snyder's Sister, Maiden, Monster is a plague dream for our uncertain times. Compelling and terrifying. Mapping the pandemic planet with words as white as bone, as black at night, as red as blood."
— Angela Slatter, award-winning author of The Path of Thorns
"Reminiscent of early Poppy Z. Brite, razor-edged and compulsively readable, Sister, Maiden, Monster is the pandemic kink-thriller I didn't know I needed."
—Usman T. Malik, award-winning author of Midnight Doorways: Fables from Pakistan
"Sister, Maiden, Monster made me shudder with revulsion and gasp out loud. I have never seen anyone weave Biblical imagery and cosmic horror together so effectively. The body horror alone is top-tier and completely stomach-churning, but it was the psychological impact and clever references that kept me turning the pages. There is no small amount of social commentary; the world at the start of the apocalypse feels remarkably like this one. This book is an absolute nightmare that I didn't want to wake up from."
— Bee Powell, Changing Hands, AZ
"I just finished Sister, Maiden, Monster, and I've never said WTF so many times… Folks who are really into cosmic and body horror will have their socks knocked off. I had my hand over my mouth the entire time reading it, and this book will be haunting my nightmares for years to come."
— Candice Huber, Tubby & Coo's, LA
"We all have books that we end up sneaking out to read when we should be doing other things. I present to you Sister, Maiden, Monster, the book that kept me up at night for more than one reason. As an enthusiastic consumer of body horror, I kept thinking, 'Well, this must be as far as the author will go, right?' only to be proven wrong again and again. The book seems breakneck from the start but the pace only picks up and up some more until I was clinging to it in wait for how the story could possibly end."
— Kvothe Harris, Rediscovered Bookshop, ID
"If you read this book, your therapist will be big mad at Lucy A. Snyder! "
—Dr. Rod D. Roscoe, Cognitive Psychologist
View this post on Instagram