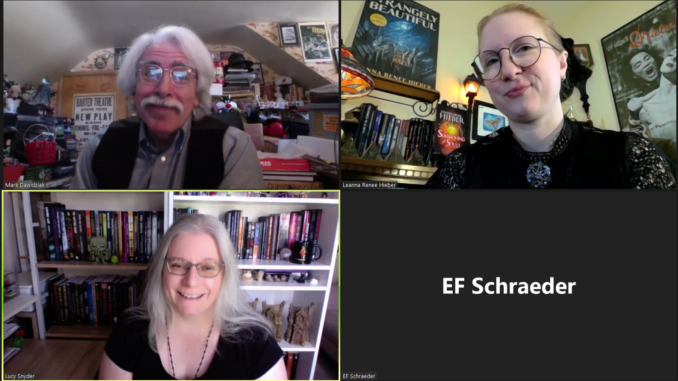 Yesterday, I and EF Schraeder, Mark Dawidziak, and Leanna Renee Hieber recorded the "Don't Turn Out the Lights!" panel on writing horror for the 2022 Ohioana Book Festival. Our panel will stream on YouTube at 2pm on Sunday, May 1st.
Since 2007, the Ohioana Book Festival has given readers the opportunity to connect with their favorite Ohio writers. Held each spring, the Festival welcomes roughly 140 authors and more than 3,000 visitors every year.
The organizers say:
As we have done for the past two years, we decided to present the festival in an online format to keep everyone safe as the pandemic continues. We're delighted that we will still be able to share with you all the things you love about the Ohioana Book Festival, straight to your home: a fun-filled weekend featuring panel discussions, conversations, and readings. We'll also have a number of virtual outreach programs with community partners from all around Ohio leading up to the main event.

110 Ohio authors and illustrators will be featured in the festival's virtual programs. See the full list below. We're sure you'll see some of your favorites in this stellar lineup!
The 2022 Book Festival will be held virtually from Friday, April 29 to Sunday, May 1, 2022. Click on the logo below to check out their schedule: