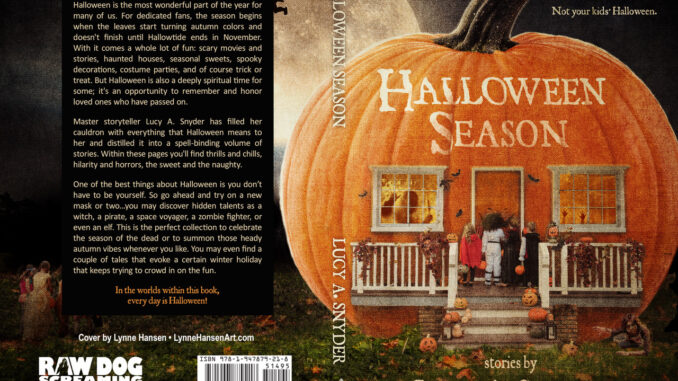 My publisher is hosting an online launch party for my book Halloween Season on October 5th at 7pm Eastern. I'll be giving a presentation on writing post-COVID horror, and cover artist Lynne Hansen will be on hand to answer questions. There will also be an online costume contest, virtual trick-or-treating, and a Q&A session.
If you'd like to attend, please sign up here to get your free ticket:
https://hopin.to/events/celebrate-halloween-season
Free tickets are required to help make sure that the event is all treats and no tricks from online mischief makers.
About the Book
Halloween is the most wonderful part of the year for many of us. For dedicated fans, the season begins when the leaves start turning autumn colors and doesn't finish until Hallowtide ends in November. With it comes a whole lot of fun: scary movies and stories, haunted houses, seasonal sweets, spooky decorations, costume parties, and of course trick or treat. But Halloween is also a deeply spiritual time for some; it's an opportunity to remember and honor loved ones who have passed on.
Master storyteller Lucy A. Snyder has filled her cauldron with everything that Halloween means to her and distilled it into a spell-binding volume of stories. Within these pages you'll find thrills and chills, hilarity and horrors, the sweet and the naughty.
One of the best things about Halloween is you don't have to be yourself. So go ahead and try on a new mask or two … you may discover hidden talents as a witch, a pirate, a space voyager, a zombie fighter, or even an elf. This is the perfect collection to celebrate the season of the dead or to summon those heady autumn vibes whenever you like. You may even find a couple of tales that evoke a certain winter holiday that keeps trying to crowd in on the fun.
In the worlds within this book, every day is Halloween!