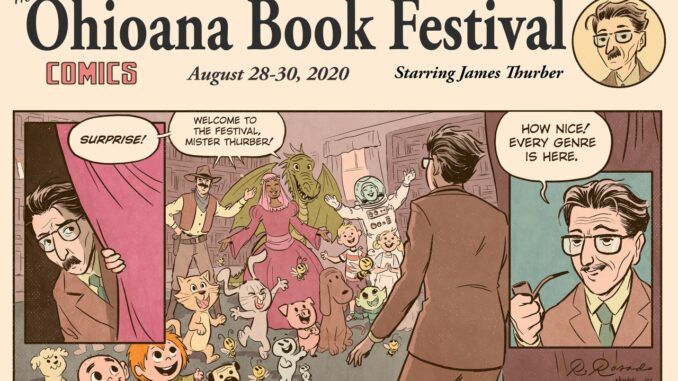 This year, because of COVID-19, the Ohioana Book Festival is being held in a virtual format from Friday, August 28 through Sunday, August 30th. I'm participating in the "Adventures in Speculative Fiction" panel, which will go online at 2pm Eastern on Sunday.
Adventures in Speculative Fiction
The best speculative fiction tells a story that is recognizable to all audiences – whether it includes spaceships, strange creatures, ghosts, or other things we don't usually encounter in everyday life. These panelists are some of the best in the business. Listen to their advice on writing spec fic and learn about those writers who influenced and guided them.
Moderator: Robin Nesbitt
Panelists: Matt Betts, Leanna Renee Hieber, Lucy A. Snyder, Dan Stout
---
As part of of the festival, the Book Loft has set up pages for participating authors, and you can find mine here:
https://www.bookloft.com/lucy-snyder
If you'd like to support this fine independent book store, please consider ordering my (or anyone else's!) books through their site.
Be sure to check out all the other free programming at the festival this weekend. You can find the whole list on the Ohioana site, but I wanted to mention these panels in particular:
Friday 4pm 
LGBTQ+ Stories – LIVE – Register on Eventbrite
For too long, the stories of the LGBTQIA+ community in Ohio have been untold – silenced, repressed. With the passing of Obergefell v. Hodges in 2015 and the legalization of same-sex marriage, doors have slowly begun to open. Join our authors, who write fiction, do podcasts and videos, and speak publicly about their own LGBTQIA+ stories, and discuss how more of those stories can be told and more voices amplified.
Moderator: David Siders
Panelists: Meredith Doench, Kristen Lepionka, Ken Schneck
Saturday 1pm  
Black Stories, Black Voices with Columbus Metropolitan Library – LIVE – Register on Crowdcast
Four Black authors, writing in a variety of genres, share their experiences with poet Scott Woods, as they create art in this historic and unprecedented time. Hosted by Columbus Metropolitan Library.
Moderator: Scott Woods
Panelists: Lyn Ford, J.L. Raynor, Debbie Rigaud, jw Smith
Sunday 11am
Living Your Best Life- LIVE – Register on Eventbrite
How does one "live their best life?" Join these panelists to find out how – all of them have advice for overcoming adversity – cancer, depression, weight gain, etc. – and how to keep the faith and trust your own instincts to become your best self.
Moderator: Yolonda Tonette Sanders
Panelists: Diana Bosse, Pia Fitzgerald, Conlee Ricketts, Nita Sweeney
Sunday 1pm 
Writing Great Genre Fiction – LIVE – Register on Eventbrite
Get some tips on how to write a great genre story – whether it's mystery, science fiction, fantasy, or your own genre. These authors will weigh in on how to tell a great story no matter what genre it is.
Moderator: Moriel Rothman-Zecher
Panelists: Sheldon Gleisser, Anne Marie Lutz, Richard J. Norgard, TG Wolff, John Vanek