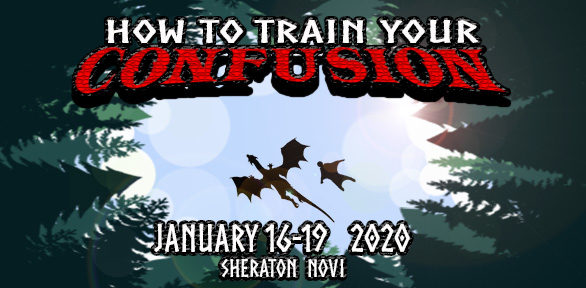 I'll be a programming participant at ConFusion this January; it will be held in the Sheraton Detroit Novi Hotel the weekend of the 16th. The Guests of Honor at the convention will be Seanan McGuire, Gwenda Bond, Kameron Hurley, Bogi Takács, Brandon O'Brien, and Dr. Julie Lesnik. Other panelists include Michael R. Underwood, LaShawn M. Wanak, David Mack, Marissa Lingen, Pablo Defendini, Ken Schrader, Ferrett Steinmetz, Corry L. Lee, Dan Stout, John Klima, Cherie Priest, John Scalzi, Jason Sanford, Mur Lafferty, Jordan Kurella, John Chu, and Jim C. Hines. Tom Smith and Random Fractions will be playing concerts.
ConFusion is the longest-running science fiction and fantasy convention in Michigan. The event focuses on SFF literature, art, music, and a multitude of related fandoms.
Here's my schedule:
Working with a Small Press: What should I know?
Day: Friday, January 17
Time: 12:00 p.m.
Room: Charlevoix
Track: Pro Track
Our panel of small-press professionals and writers talk about the upsides and downsides of choosing a small press over one of the big publishing houses. When is a small press a good choice for your project? What are the tradeoffs to consider?
Panelists: Michael R Underwood (M), Dave Ring, Alvin R Mullen, Lucy A. Snyder
Reading: Ken Schrader, Lucy A. Snyder, Phoebe Barton
Day: Saturday, January 18
Time: 03:00 p.m.
Room: Saugatuck
Track: Reading
Panelists: Ken Schrader, Lucy A. Snyder, Phoebe Barton
Writing Critique Groups
Day: Sunday, January 19
Time: 01:00 p.m.
Room: Isle Royale
Track: Literature
Critique groups can be a fantastic resource for writers, but it can be tough to find (or form) one that will suit your needs. Our panel of crit group veterans talks about the good and bad of critique groups, how to find an existing group, what to expect, and when to walk (or run) away from a group. Plus, tips on good practices to adopt in your group so everyone can get the best out of the experience.
Panelists: Clif Flynt (M), Adam R. Shannon, Adam Rakunas, Lucy A. Snyder, Corry L. Lee