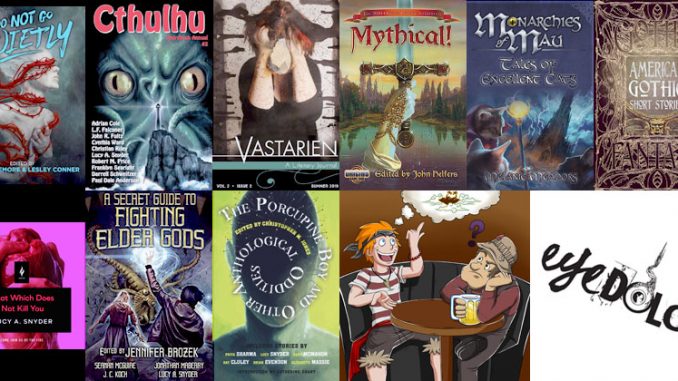 This past year, various venues published seven of my short stories and two of my poems. I also wrote a new level for the online game Fish Wrangler, and Eyedolon Magazine published two chapters of my serialized Lovecraftian space opera novel Blossoms Blackened Like Dead Stars. (Michelle Lane at Girl Meets Monster recently interviewed me about my serial; the interview includes an excerpt from the novel.)
Here's my whole list for 2019:
"A Simple Plan" – Eyedolon Magazine, Broken Eye Books, November 2019.
"The Porcupine Boy" – The Porcupine Boy and Other Anthological Oddities, Crossroad Press, October 2019.
"That Which Does Not Kill You" – Come Join Us By The Fire, Tor Nightfire Books, October 2019.
"Living Dead Space" – Eyedolon Magazine, Broken Eye Books, August 2019.
"Monsoon Lagoon" – Fish Wrangler, July 2019.
"Silences" – Vastarien: A Literary Journal, Summer 2019.
"An Adventure in Badger Country" – Tales of Excellent Cats: A Monarchies of Mau Anthology, Onyx Path Publishing, June 2019.
"The Dogs of Summer" – Mythical!, Origins Game Fair, Inc., June 2019.
"Approaching Lavender"– American Gothic, Flame Tree Publishing, June 2019.
"Permian Basin Blues" – Do Not Go Quietly, Apex Books, May 2019.
"Visions of the Dream Witch" – A Secret Guide to Fighting Elder Gods, Pulse Publishing, April 2019.
"A Noble Endeavor" – Weirdbook Annual #2, February 2019.