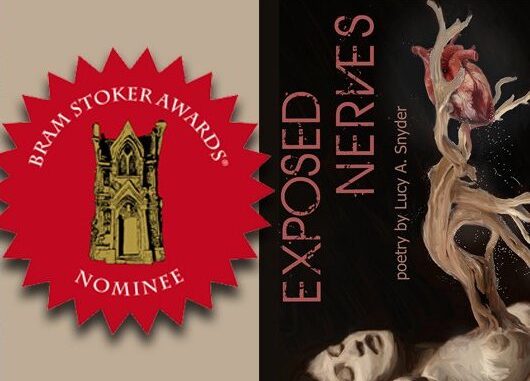 I'm very pleased that my book Exposed Nerves has made the final Bram Stoker Award ballot for Superior Achievement in a Poetry Collection. Here's the full list of nominees in that category:
Lansdale, Joe R. – Apache Witch and Other Poetic Observations (Independent Legions Publishing)

McHugh, Jessica – Strange Nests (Apokrupha)

Simon, Marge and Turzillo, Mary – Victims (Weasel Press)

Sng, Christina; Yuriko Smith, Angela; Murray, Lee; and Flynn, Geneve – Tortured Willows: Bent. Bowed. Unbroken. (Yuriko Publishing)

Snyder, Lucy A. – Exposed Nerves (Raw Dog Screaming Press)
My congratulations go out to all the other nominees! You can read selections from my collection and the other nominees at the HWA Poetry Blog.
In case that link isn't working for you, here are a pair of poems from Exposed Nerves:
Silences

The newborn won't cry
not even after the surgery
to remove its rotting twin.
Unmade parents lying awake,
3am, exhausted in the dark.
The father's quiet dressing,
slipping out into the cold grey
dawn, destination unknown,
too dazed to make a hard turn.
The soft November snowfall
blanketing the overturned car.
Fifteen frantic texts unseen,
muted in a red-soaked coat.

Recreation

We would be two larks winging
our way through the Master's
best, you said. I'd be your Grace
Kelly, your Audrey. Your eager eye
documenting our recreation, old-style
eight-millimeter, hand-cranked.

I don't remember Grant getting naked
as he fled the marauding sky, flat
fields, drab motels, but a true auteur
is no script-slave. Spellbound, I shed
my retro dress, hit the marks you ordered,
amateur heart fluttering in its dark cage.

But you've stopped wearing your tie,
your ring. You've switched to digital
video, the cost of the darkroom too dear.
The trunk of your old green Ford is filled:
coils of rope and plastic sheets. The shower
scene is tomorrow, you smile. I'm silent,
skull-rehearsing my own altered script
as I lie beside you in the feather bed.
I'm also very pleased that Attack From The 80s (edited by Eugene Johnson) was nominated in the Superior Achievement in an Anthology category. The anthology contains Lee Murray's story "Permanent Damage," which was separately nominated in the short fiction category, and my story "Munchies," which has received acclaim from reviewers.
"Munchies" by Lucy A. Snyder features a daring battle between a gaggle of drag queens and the gargantuan, reptilian menace of Nancy Reagan, who's come to devour their small Texas town.
— Publishers Weekly

"Munchies" by Lucy A. Snyder is a great story about a group of drag queens and the terror that was Nancy Reagan who has come to deliver a check to the local high school's antidrug drive.
— Monster Librarian

MUNCHIES by Lucy A. Snyder: This turned out to be a hilarious and super fun story … Really enjoyed this!
— Yolanda Sfetsos
Speaking of positive nods, here are some recent reviews of Exposed Nerves: