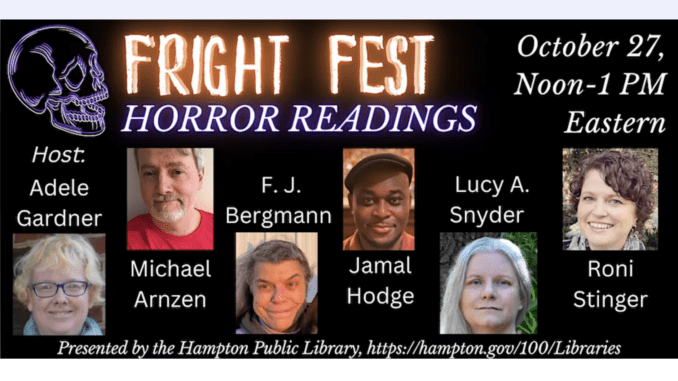 This Thursday (Oct. 27th) from noon-1pm Eastern, I and Michael Arnzen, F. J. Bergmann, Jamal Hodge, and Roni Stinger will be reading our work at Fright Fest, a free online event sponsored by the Hampton Public Library. Our host will be host Adele Gardner. To reserve a spot in the audience, please visit:
https://www.eventbrite.com/e/fright-fest-horror-readings-thurs-oct-27-noon-1-pm-est-tickets-401426125347
Join Hampton Public Library online for the Fright Fest Horror Readings! The second program in this free, virtual-only series takes place live via Zoom and Facebook on Thursday, October 27, from noon-1 PM Eastern. This program is intended for horror fans ages 18 and up.

The Fright Fest Horror Readings feature members of the Horror Writers Association and Science Fiction & Fantasy Poetry Association. They'll share poetry and short fiction that celebrates horror and Halloween themes, including Hampton Public Library's weekly Fright Fest focus on pumpkins, bats, monsters, cats, and all that is spooky.

Please join us for an hour of their chilling and eerily delightful work!