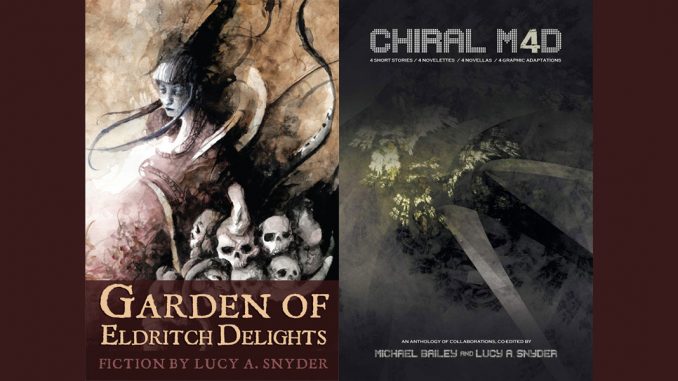 Two of my books have been nominated for Shirley Jackson Awards this year! Garden of Eldritch Delights has been nominated in the Single-Author Collection Category, and Chiral Mad 4 (which I co-edited with Michael Bailey) has been nominated in the Edited Anthology category.
The Shirley Jackson Awards were established to recognize outstanding achievement in the literature of psychological suspense, horror, and the dark fantastic.
The nomination for my collection is particularly gratifying because of the professional recognition of my short story writing that it represents. But I'm also very excited about the nod to Chiral Mad 4, because this was my first time as an anthology editor. With a bit of luck, this means that there will be more anthologies in my editing future!
I'm very pleased to be sharing the ballot with a whole lot of great writers. Here's the complete list of nominees for the 2018 Shirley Jackson Awards:
NOVEL
Everything Under, Daisy Johnson (Jonathan Cape)
In the Night Wood, Dale Bailey (John Joseph Adams Books/Houghton Mifflin Harcourt)
Little Eve, Catriona Ward (Weidenfeld & Nicolson, an imprint of The Orion Publishing Group)
Social Creature, Tara Isabella Burton (Double Day/Raven Books)
We Sold Our Souls, Grady Hendrix (Quirk Books)
NOVELLA
Judderman, DA Northwood (Gary Budden) (Dead Ink Books/Cinder House Publishing)
The Atrocities, Jeremy C. Shipp (Tor.com)
The Only Harmless Great Thing, Brooke Bolander (Tor.com)
The Sea Dreams It Is the Sky, John Hornor Jacobs (HarperCollins Publishers)
The Taiga Syndrome, Cristina Rivera Garza (Dorothy, a Publishing Project)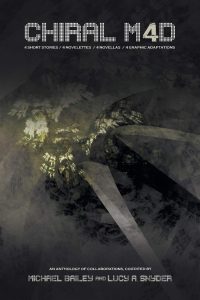 NOVELETTE
"Adriftica," Maria Dahvana Headley (Robots vs. Fairies)
"Blood and Smoke, Vinegar and Ashes," D.P. Watt (The Silent Garden)
Ghostographs: An Album, Maria Romasco Moore (Rose Metal Press)
"Help the Witch," Tom Cox (Help the Witch)
"The Black Sea," Chris Mason (Beneath the Waves – Tales from the Deep, April 2018)
SHORT FICTION
"Back Seat," Bracken MacLeod (Lost Highways)
"Hell," David Hansen (The Charcoal Issue of Fairy Tale Review, March 2018)
"How to be a Horror Writer," Tim Waggoner (Vastarien: A Literary Journal vol 1., issue 2 – Summer / Grimscribe Press)
"The Astronaut," Christina Wood Martinez (Granta 142: Animalia)
"The Woman Dies," Aoko Matsuda, translated from the Japanese by Polly Barton (online edition of Granta 144: genericlovestory)
SINGLE-AUTHOR COLLECTION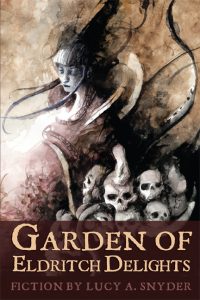 All the Fabulous Beasts, Priya Sharma (Undertow Publications)
From Deep Places, Gemma Files (Trepidatio Publishing)
Garden of Eldritch Delights, Lucy A. Snyder (Raw Dog Screaming Press)
Quartier Perdu, Sean O'Brien (Comma Press)
The Human Alchemy, Michael Griffin (Word Horde)
EDITED ANTHOLOGY
Chiral Mad 4: An Anthology of Collaborations, edited by Michael Bailey and Lucy A. Snyder (Written Backwards)
Robots vs Fairies, edited by Navah Wolfe and Dominik Parisien (Saga Press)
The Silent Garden: A Journal of Esoteric Fabulism, edited by The Silent Garden Collective (Undertow Publications)
This Dreaming Isle, edited by Dan Coxon (Unsung Stories)
Tiny Crimes: Very Short Tales of Mystery and Murder, edited by Lincoln Michel and Nadxieli Nieto (Black Balloon)

The 2018 Shirley Jackson Awards will be presented on Sunday, July 14, 2019, at Readercon 30, Conference on Imaginative Literature, in Quincy, Massachusetts.
A Fly in the Lemonade: Readercon hosts the awards ceremony but is not otherwise involved with the awards. The convention closed panelist applications well before the nominations were announced on May 2nd, so none of the nominees were given the opportunity to participate in Readercon programming. The panelist application was still up on their site and I applied for programming right away; I was not notified that it had been closed until I queried a few weeks later (other nominees who also applied right after the ballot was announced, such as Tim Waggoner, apparently received no reply at all). The reason I was given for their closing programming so early and not leaving any room for nominees was that the program book had to be finalized … which strikes me as odd since every other convention I've been involved with (barring very large conventions like Gen Con) have been able to comfortably finalize their programming a month in advance. Most printers can turn a print job around in a week these days. And most conventions generally leave some wiggle room for adding interested professionals to programming late in the game because they know people will inevitably drop out at the last minute.
I helped run programming for Context for many years, and if we'd been in a position to host a major literary awards ceremony? I would have made absolutely sure that interested nominees had a chance to participate. I would have made space for them. If a convention really and truly needs to finalize its panelist list four months in advance, it's still not that hard to leave room on the schedule and in the program book for as-yet-unknown nominees with some TBAs attached. It just requires a bit of flexibility.