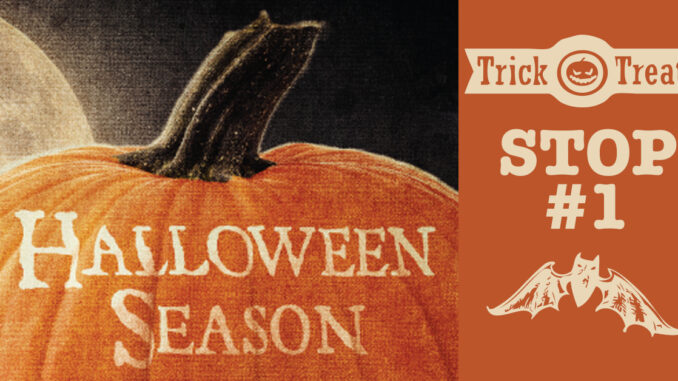 Halloween Season is my 4th book with Raw Dog Screaming Press, and my 10th short story collection overall. I created it for readers who told me that although they enjoy my horror stories, they really hoped I would return to writing humor, too. This collection has both! It gets progressively darker toward the middle, but the final stories should release you into the real world in a cheerful frame of mind.
Cover artist Lynne Hansen says, "I always read the books I create art for, and the thing that struck me about Lucy's book was the underlying sense of magic and wonder inherent in so many of the pieces, dark and twisted as it may be, and I wanted to convey that in the art."
To celebrate the book, we've set up some virtual trick-or-treating. Visit each of five blog posts, feast your eyes on the amazing cover created by Lynne Hansen, and pick up a different "treat" from each post. There are five houses to visit on this block:
Lucy A. Snyder (you are here!)
Lynne Hansen (make sure to browse her fabulous gallery!)
Your special treat at this stop? You can download a free 25-page PDF excerpt of Halloween Season!
If you enjoy it, please consider ordering the whole book directly from RDSP, although you can also preorder it from Amazon, Target, or Barnes & Noble. The book will arrive at your doorstep in early October.
Advance Reviews
"Full of charm and subtle humor, this collection of 15 Halloween-themed stories from Bram Stoker Award winner Snyder (Garden of Eldritch Delights) scares and delights in equal measure. This delightful collection will appeal both to avid horror readers and those just dipping their toes in for a seasonal celebration."
— Publishers Weekly
"Snyder, a master at crafting visceral stories that deeply probe Lovecraftian horror and dark fantasy, is back with a Halloween-themed collection, perfectly packaged for libraries. With a stunning cover sure to lure readers in during the haunting season, Snyder's collection is the perfect complement to Lovecraft Country (2016) by Matt Ruff, and a solid suggestion for readers of her cosmic-horror peers such as John Langan and Caitlín R. Kiernan."
— Booklist
Table of Contents
"Beggars' Night"
"Hazelnuts and Yummy Mummies"
"Cosmic Cola"
"Visions of the Dream Witch"
"What Dwells Within"
"The Porcupine Boy"
"In the Family"
"The Kind Detective"
"A Preference For Silence"
"Wake Up Naked Monkey You're Going to Die"
"The Great VüDü Teen Linux Zombie Massacree"
"The House That Couldn't Clean Itself"
"After Hours"
"The Toymaker's Joy"
"The Tingling Madness"

From The Back Cover
Halloween is the most wonderful part of the year for many of us. For dedicated fans, the season begins when the leaves start turning autumn colors and doesn't finish until Hallowtide ends in November. With it comes a whole lot of fun: scary movies and stories, haunted houses, seasonal sweets, spooky decorations, costume parties, and of course trick or treat. But Halloween is also a deeply spiritual time for some; it's an opportunity to remember and honor loved ones who have passed on.
Master storyteller Lucy A. Snyder has filled her cauldron with everything that Halloween means to her and distilled it into a spell-binding volume of stories. Within these pages you'll find thrills and chills, hilarity and horrors, the sweet and the naughty.
One of the best things about Halloween is you don't have to be yourself. So go ahead and try on a new mask or two … you may discover hidden talents as a witch, a pirate, a space voyager, a zombie fighter, or even an elf. This is the perfect collection to celebrate the season of the dead or to summon those heady autumn vibes whenever you like. You may even find a couple of tales that evoke a certain winter holiday that keeps trying to crowd in on the fun.
In the worlds within this book, every day is Halloween!
More About Lucy
Lucy A. Snyder is the five-time Bram Stoker Award-winning and Shirley Jackson Award-nominated author of over 100 published short stories and 14 books. Chaosium will release her novel The Girl With the Star-Stained Soul sometime in 2021. She also wrote the novels Spellbent, Shotgun Sorceress, and Switchblade Goddess, the nonfiction book Shooting Yourself in the Head for Fun and Profit: A Writer's Survival Guide, and the collections Garden of Eldritch Delights, While the Black Stars Burn, Soft Apocalypses, Orchid Carousals, Sparks and Shadows, Chimeric Machines, and Installing Linux on a Dead Badger. Her writing has been translated into French, Russian, Italian, Spanish, Czech, and Japanese editions and has appeared in publications such as Asimov's Science Fiction, Apex Magazine, Nightmare Magazine, Pseudopod, Strange Horizons, and Best Horror of the Year.
With Michael Bailey, Lucy also co-edited the critically-acclaimed collaborative dark fiction anthology Chiral Mad 4. When she's not writing, she works as a freelance developmental editor in a suburb of Columbus, Ohio. You can learn more about her at www.lucysnyder.com and you can follow her on Twitter at @LucyASnyder.