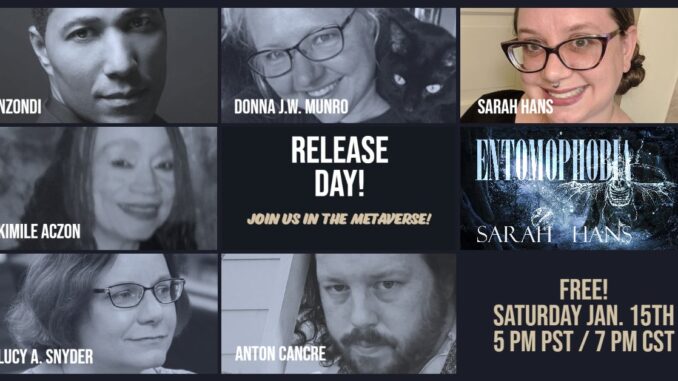 Tomorrow evening, I and Donna J.W. Munro, Anton Cancre, Kimile Aczon, and Nzondi will be participating in Omnium Gatherum's release event for Sarah Hans' new novel, Entomophobia. The book launch readings will be free and streamed on Facebook on Saturday, January 15th at 5pm PST/8pm Eastern.
To view the event during or after, please visit:
https://www.facebook.com/K8jonez/videos/613474323093445
In other news, the Kickstarter for That Which Cannot Be Undone: An Ohio Horror Anthology ends in 13 days. The anthology is schedule for October 2022 and will include twenty stories from me and other Ohio authors such as Tim Waggoner, Megan Hart, Gary A. Braunbeck, and Gwendolyn Kiste.
For more information or to back the anthology, please visit:
https://www.kickstarter.com/projects/crackedskullproject1/that-which-cannot-be-undone-an-ohio-horror-anthology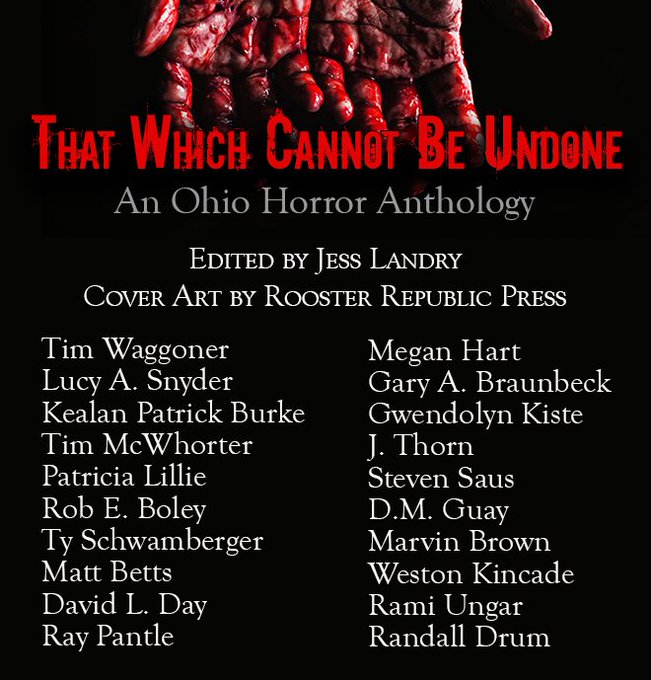 And finally, I'm happy to announce that my essay "A Slippery World: Writing Poetry About Gender and Sexuality" will be in the forthcoming nonfiction anthology Writing Poetry in the Dark from Raw Dog Screaming Press.
The book is edited by Stephanie M. Wytovich. Other contributors include many award-winning poets and editors such as Linda D. Addison, Michael A. Arnzen, F.J. Bergmann, Carina Bissett, Leza Cantoral, Timmons Esaias, Jeannine Hall Gailey, Claire C. Holland, Jim and Janice Leach, Donna Lynch, Alessandro Manzetti, Jessica McHugh, Cynthia Pelayo, Saba Syed Razvi, Marge Simon, Christina Sng, Sara Tantlinger, Joanna C. Valente, Bryan Thao Worra, and Albert Wendland.
"We've always taken genre poetry seriously at RDSP and over the years readers have really responded to our poets. We want to keep pushing dark poetry out of the shadows and hope to inspire more verse from the dark side," says managing editor Jennifer Barnes.
This book joins the branded RDSP Writing in the Dark series which includes 2020's Bram Stoker Award Winner Writing in the Dark horror craft book by Waggoner, as well as his upcoming 2022 companion workbook. Additionally, they host Writing in the Dark webinars and seminars, which offer many workshops and information from various authors and writers, through AllAccessCon.
Writing Poetry in the Dark will be released sometime in 2022. For more information, please visit:
https://rawdogscreaming.com/book-deal-writing-poetry-in-the-dark-guidebook/