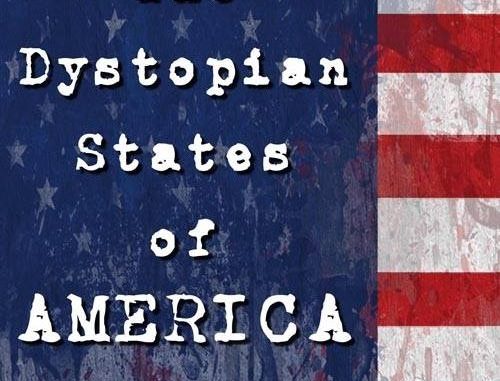 My story "Abandonment Option" was just published in The Dystopian States of America, a charity anthology benefiting the ACLU Foundation. Edited by Matt Bechtel, the book includes an introduction from Christopher Golden and work from Bracken MacLeod, Linda D. Addison, Hillary Monahan, James A. Moore, Wrath James White, Nadia Bulkin, Doungjai Gam, Elizabeth Massie, Tim Lebbon, Jonathan Maberry, and many others.
THIS IS NOT OUR FUTURE.
This anthology features dystopian views of the future, for America and/or the entire world, should its political situation continue in the direction it's been going. Many of us have publicly stated that the reality we're currently living within is scarier and more surreal than anything any of us have ever dreamt up, so this anthology provided the chance to take that ball and run with it.
All proceeds from The Dystopian States of America will be donated to the American Civil Liberties Union Foundation. It is a 501(c) (3) nonprofit corporation; donations to it fund the ACLU's litigation and public education efforts. As such, all contributing authors have donated their work to this anthology without payment.
TABLE OF CONTENTS:
An Introduction by Christopher Golden
"Passage of Life: Stage 1 — Underground" by Abby Bechtel
"No One Who Runs is Innocent" by Bracken MacLeod
"Artificial Unintelligence" by Linda D. Addison
"Fake News" by Tony Tremblay
"Frontrunners" by John M. McIlveen
"Carving Out the Other" by William D. Carl
"The New Corbridge Free State" by Dana Cameron
"What You Need" by Hillary Monahan
"Abbatoir Blues" by James A. Moore
"Pigs" by GD Dearborn
"Divided We Fell" by Hildy Silverman
"Before I Formed You In The Womb I Knew You" by Michael Rowe
"For Want of Blue Eyes" by Stephen Lomer
"Antibodies" by Justine Graykin
"Blue & Red" by Wrath James White
"The Rules Are Different Here" by Nadia Bulkin
"Abandonment Option" by Lucy A. Snyder
"Close Your Eyes in Peace Tonight" by Craig Wolf
"Passage of Life: Stage 2 — Exiting" by Abby Bechtel
"Deep, Dark" by Jonathan Maberry
"the revolution will be in color" by doungjai gam
"Heart of ICE" by Jeff Deck
"African Twilight" by Michelle Renee Lane
"Xenophobia" by Billy Martin
"How All This Ends" by Brad J. Boucher
"The Twenty-Second" by C.M. Franklyn
"On a Dusty Trail" by Cat Scully
"Six Plus Four" by Matt Bechtel
"Scarves" by Elizabeth Massie
"The Sick House" by Josh Waterman
"Enemy of the People" by Dan Foley
"Abortion Diary" by KL Pereira
"Drive" by Tim Lebbon
"The Night Listener" by Chet Williamson
"We All Live Under the Sun" by Errick A. Nunnally
"Revolt" by Sheri Sebastian-Gabriel
"Passage of Life: Stage 3 — Molting" by Abby Bechtel