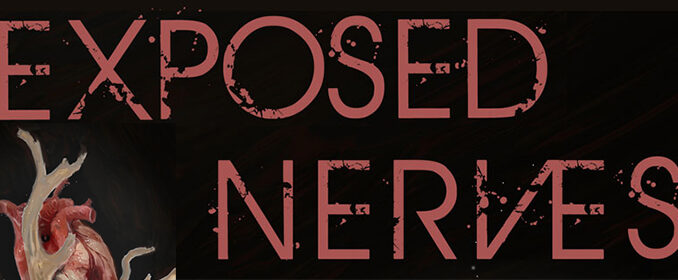 I'm very happy to show you all the new cover for my forthcoming poetry collection Exposed Nerves. Raw Dog Screaming Press (RDSP) will be release the book in late September 2021. It's available for preorder now and all pre-ordered copies will come with a bookplate signed by me. The painting used for the cover is by artist/musician/illustrator Steven Archer.
I was really struck by his digital painting 'The World Witch' and I was glad that RDSP was able to use it for my collection. Through its naked female figure, it conveys a mix of the beautiful and the grotesque, the agonizing and the serene, the vulnerable and the powerful, the mundane and the supernatural, and I think that imagery fits very well with the themes of the book. You always want an attractive cover that gives prospective readers an accurate idea of what's in the pages, and Archer's art does that for Exposed Nerves.
It's the fifth book of mine that RDSP will release, but it's the first poetry collection. Exposed Nerves will be a bit of a departure for people who've so far only read my novels or short stories. About half the poems in this collection have horror or science fictional themes and have appeared in venues such as Vastarien and Asimov's Science Fiction Magazine. The other poems are firmly grounded in real life and explore themes and situations that have affected me as a human being. There's whimsy here, but also pain and anger and hope.
"Exposed Nerves vibrates with energy and rewards with clarity of vision."
—Mary Turzillo, Stoker-nominated and Elgin Award-winning poet, from her Foreword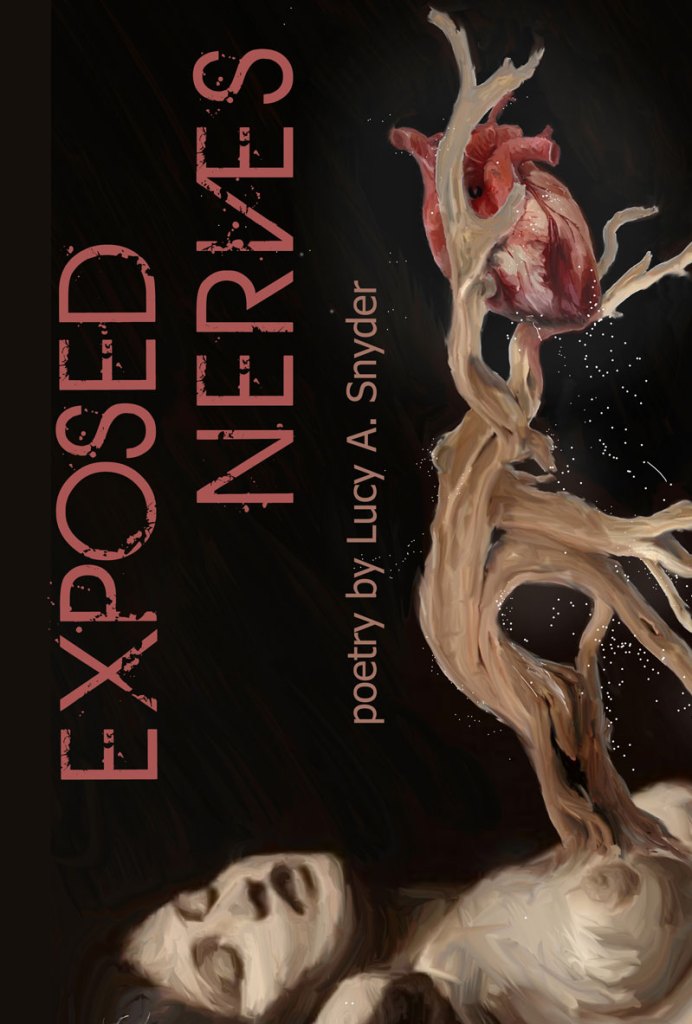 Praise for my Stoker-winning poetry collection Chimeric Machines
"(This) may be the best collection of poetry I've read in years … There is not one poem in Chimeric Machines that doesn't fit in place like a delicately carved piece of a complex and consuming puzzle. … There is no other writer working today quite like Lucy A. Snyder."
— Hellnotes
"What Snyder accomplishes in less than eighty pages is an emotional scoring that few can approach. … This is (real life), given breath and teeth, stood out in front of the world in all its beautiful grime. Her work is emotional, powerful, and will shake a person's foundations … I applaud this collection."
— Scott A. Johnson, author of City of Demons
"Snyder is a massively talented writer — the sort who knows how to make you take a gulp when you hit the ending of a story or poem — and this poetry collection made me gulp with awe on virtually every page."
— Michael A. Arnzen, author of Proverbs for Monsters
"Her poetry is powerful, honest, playful … this is not the first time she has walked dangerous, uncertain roads with her work and I hope it will not be the last."
— Horror News