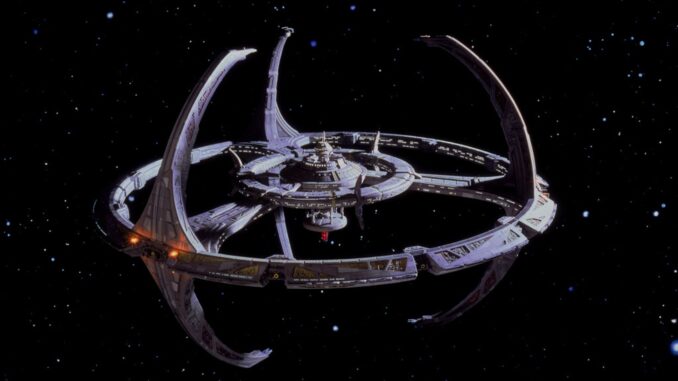 If you're a working writer, or aspire to become one, rejections are part of the landscape. You can expect to have your work rejected hundreds and possibly thousands of times, depending on how much writing you send out into the world and how well you target your submissions. (More in my post "Dealing With Rejections From Editors".)
I'm not sure how many rejection letters I've received. Unlike some authors, I haven't tried to wallpaper my office with them. I make a note to not submit that particular piece to that particular market again, and send my story or poem elsewhere.
But sometimes, you get a rejection letter that's nearly as nice as an acceptance because it's kind and encouraging and gives you hope for your future career. And on that front, I do know what my favorite rejection letter is.
Flash back to 1996 when I was in college at Indiana University. Star Trek producer Jeri Taylor visited our TV writing class, and my classmate Daniel and I ended up being approved to submit telephone story pitches and submitted a full spec script for Star Trek: Deep Space Nine. It wasn't accepted — for reasons that are obvious to me now that I have a couple more decades of storytelling experience — but we received this very kind letter from Taylor: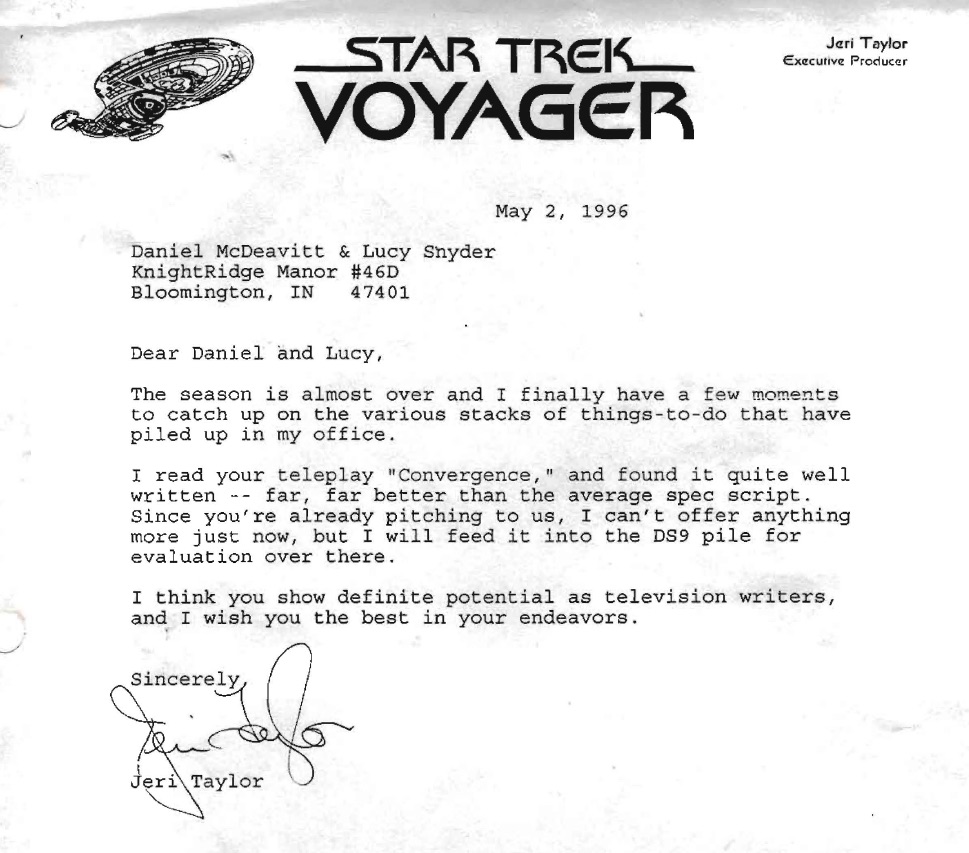 Here's the text of the letter:
Dear Daniel and Lucy,

The season is almost over and I finally have a few moments to catch up on the various stacks of things-to-do that have piled up in my office.

I read your teleplay "Convergence," and found it quite well written — far, far better than the average spec script. Since you're already pitching to us, I can't offer anything more just now, but I will feed it into the DS9 pile for evaluations over there.

I think you show definite potential as television writers, and I wish you the best in your endeavors.

Sincerely,

Jeri Taylor
So, on the face of it, it's not exactly a rejection letter. But I suspect she sent it along knowing the answer from the DS9 evaluators would ultimately be "no", and she wanted to give a couple of eager college students some encouragement. Knowing the absolutely crushing work schedule that she had, I'm still touched that she took the time to write to us.